Raymond "Ed" Gress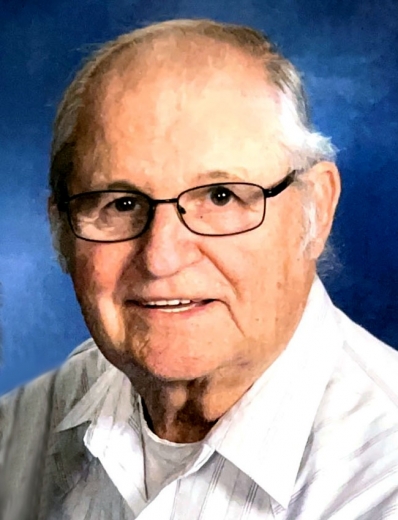 Raymond "Ed" Gress, 79, of Blue Springs, MO, formerly of Waukon, IA, died Wednesday, December 14, 2022, at St. Mary's Medical Center in Blue Springs, MO. Funeral services will be held Monday, December 19th, at 1:00 PM at Martin - Grau Funeral Home in Waukon, IA, with Pastor Duane Smith officiating. Burial with military honors will be at Salem Cemetery in rural Waukon. Friends may greet the family from 10:00 AM until the time of services on Monday at the funeral home.
     Raymond Edward Gress II was born October 10, 1943, in Des Moines, IA, the son of Raymond Edward Sr. and Laura Mae (Hamann) Gress. He grew up in Waukon, IA, and attended Ludlow school. From 1966-68, Ed was active duty in U.S. Army, stationed in Fort Polk, LA with the rank of SP5; he was honorably discharged to the Army Reserves, serving there until 1972. On June 16, 1968, Ed married Virginia "Susie" Lea Brooks in Anacoco, LA. They lived in Shreveport, LA, where Ed worked and retired from Brooks Heating and Air Conditioning in Bossier City, LA. They then came back to Waukon before moving to Blue Springs, MO, to live with their daughter.
     While in Shreveport, Ed was a member of South Acres Baptist Church and became a member of First Baptist Church after returning to Waukon. Ed loved being outdoors and enjoyed hunting and fishing. He also like spending time in his garden. Mostly, Ed loved spending time with family and friends.
     He is survived by his wife Susie of Blue Springs, MO; two children: Raymond Edward (Tori) Gress III of Monona, IA, and Laura Lea (Paul) Wright of Blue Springs, MO; grandchildren: Rae Anna Gebhardt, Tyler John (Emily) Gress, Melita (Tyler) Andreae, Kaleb (Bobbi) Gress, Chasity Wright, Cody (Kayley) Wright, Heather Schissel, and Alicia (Matt) Cahoon; 14 great-grandchildren with two on the way; three brothers: Dean (Carol) Gress of McGregor, IA, Gary Gress of Waukon, and Jim (JoAnn) Duvel of Postville, IA; brother-in-law Don Waters of Waukon; and many nieces and nephews.
     Ed was preceded in death by his parents; sister Ardith Waters; and sister-in-law Dorothy Gress.
     Casketbearers are Tyler and Kaleb Gress, Cody Wright, Brian Waters, Tyler Andreae, and Troy Gress.
     Online condolences may be left at www.martinfunerals.com.
Category:
Mid-America Publishing
This newspaper is part of the Mid-America Publishing Family. Please visit www.midampublishing.com for more information.