Naomi Jeanette Klinge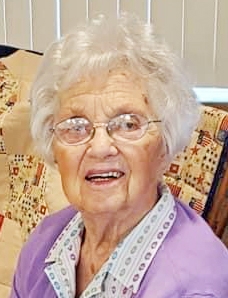 Naomi Jeanette Klinge was born on October 16, 1925 to Otto and Auguste Siebrecht on the family farm south of Garnavillo. She was the youngest of three children by nearly 10 years. Her brother was Valmah and her sister was Alice. She was baptized and confirmed at St. Paul's Lutheran church in Garnavillo.
She had a very pleasant and peaceful childhood. Besides time with both her parents, her grandmother Schaefermeier lived with them and she was able to get to know her, too. She attended the Eagle District school which was just a short walk from her home. After the 8th grade, she continued her education in town and graduated in 1943. It was the summer of '42 when Naomi met her future husband, Cliff Klinge at Lakeside Ballroom.
WW II had begun and more nurses were needed, so the Cadet Nurses' Program was established. After high school graduation, her mom and sister took her to Findley School of Nursing in Dubuque and "signed her up". The next 4 years were very rewarding for Naomi. She was in a class of 12 and she became very close to all of them, but particularly close to 4 with whom she remained life-long friends. Findley depended on two different hospitals for specific training, so she traveled to St. Louis for psychiatric training and to Akron, Ohio for pediatrics training. The day she arrived in Akron was V-J day and she remembers a huge celebration at the train station.
She and her classmates graduated in 1946 and she began her first job attending to polio patients confined to iron lungs at the Minnesota State University hospital. She remained in contact with the families of several patients and actually reconnected with one patient's sister just last year.
She and Cliff were engaged to be married, so she moved to Iowa City to work for Mercy Hospital to be closer to home. She and Cliff were married at St. Paul's on November 15, 1947. They moved to Luana where they owned/operated a stock yards and trucking business. It was there that they began their family with Lew in 1948 and Jody in 1951. They also became active with a group of contemporaries and socialized, played euchre, and fished together. Of the 6 couples, Naomi was the last survivor.
In 1957, they sold the stockyards and moved to Postville where Cliff continued his trucking business, and Naomi resumed her nursing career at the Postville Community Hospital. They expanded their family with Lisa in 1959 and Kirby in 1961. Cliff was driving and gone for many days a week and Naomi was often responsible for raising 4 children, maintaining a home and working part-time at the hospital.
In 1970, they sold the semi-trucks and Cliff began local trucking, so they built a new home in Clermont where Lisa and Kirby continued school and Naomi continued working in Postville. In Clermont, they also made a nice circle of friends and began traveling more. All four of their children graduated from college and led successful lives. When they became empty-nesters, they relocated to Garnavillo and "picked up where they left off" many years earlier. Cliff and Naomi became active with the timber, which had been in her family since 1852. This is also when they did major traveling, RV'ing with a group to Alaska and then down to Belize, Central America. They also traveled with their children to Germany and met distant relatives. To celebrate their 75th birthdays, the entire family traveled to Nashville for the Grand Ole Opry and on their 50th wedding anniversary, the entire family went on a Caribbean cruise.
Naomi had at least 4 brushes with death and after the third one, the decision was made to sell their home and move to the Tower Living Center in Garnavillo. Cliff died in 2014 and Naomi continued to live in Garnavillo until 2021 when she moved to Ames to be near Lew, Jody and Kirby.
Naomi died peacefully on May 6, 2023, National Nurses' Day. She was 97 years old and had 96 really good years.
She was preceded in death by Cliff, sadly, her daughter Lisa, and son-in-law Gaylord Wooge. She is survived by her children Lew, Jody and Kirby (Kathy), as well as 6 grandchildren, Chaldon and Courtney Wooge, Lauren Richter and Carson Jarm, Aaron and Ryan Klinge, also 4 great-grandchildren – Alex Wooge, Evie Wooge, Brooks Richter and Reese Jarm, as well as son-in-law Jim Burt.
All four of her major life-long events were performed at St. Paul's – baptism, confirmation, marriage and eulogy. She is inurned next to Cliff in the Garnavillo Cemetery in a plot with her grandparents Schaefermeier, and her parents.
She was a wonderful Mom!
Click here to visit the Morris Funeral Home website.
Category:
Mid-America Publishing
This newspaper is part of the Mid-America Publishing Family. Please visit www.midampublishing.com for more information.