Leona Ida McKee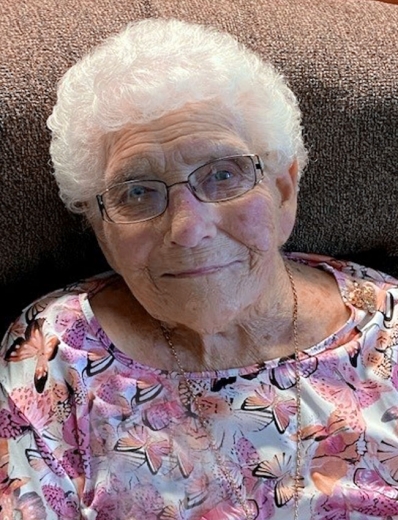 Leone I. McKee, 92, of Waukon, IA, died Monday, October 24, 2022, at Good Samaritan Center in Waukon. Funeral services will be held Friday, October 28th, at 11:00 AM at St. John's Lutheran Church in Waukon with Pastor Bryan Robertson officiating. Burial will be at Oakland Cemetery, Waukon. Friends may greet the family from 9:30 AM until time of services at the church on Friday. In lieu of flowers memorials, can be made to the Good Samaritan Society or St. John Lutheran Church, both in Waukon. Martin – Grau Funeral Home in Waukon is handling the arrangements.
     Leona Ida McKee was born September 14, 1930, in Postville, IA, the daughter of William and Louise (Krueger) Miller. She was baptized and confirmed at St. Paul Lutheran Church in Postville and attended country school through the eighth grade. On June 3, 1952, she married Edwin Lyle McKee at St. Paul Lutheran Church. They farmed together in rural Waukon and Luana until they retired in 1986. Leone also waitressed at The Old Rossville Store. Ed passed away in 1998 and Leone moved to Waukon shortly after.
    She was a member of St. John's Lutheran Church, where she was active in ladies' circles and served as custodian for several years. Leone enjoyed gardening and taking care of her flowers, reading, and playing euchre. She also loved spending time with her children, great-grandchildren, and great-great-grandchildren.
     Survivors include her children: Pat Kneeland (Doug McIntyre) of Whitmore Lake, MI, Barb Gardner of Maxwell, IA, Deb Hartley of Postville, and Kevin McKee of Monona; 10 grandchildren: Stacy (Al) McCune, Joni (Steve) Johnston, Betsy (Chad) Anteau, Toby Gramlich, Brandon (Shannon) Hartley, Brian (Amanda) Hartley, Kayla (Chris) Schmidt, Tiffany (Ryan) Wulfekuhle, and Nick and Bryce McKee; 22 great-grandchildren; four great-great-grandchildren; and a sister Arlene Beisker of Waukon. She was preceded in death by her parents; her husband Edwin; a son Kenneth; three sons-in-law: Don Gardner, Dave Hartley, and Dave Kneeland; two brothers: Roland and Vernon Miller; and two sisters: Evelyn Walsh and Helen Bahr.
  Honorary casketbearers are Leone's granddaughters. Casketbearers are Toby Gramlich, Brandon and Brian Hartley, Nick and Bryce McKee, and Ron and David Miller.
  Online condolences may be left at www.martinfunerals.com.
Category:
Mid-America Publishing
This newspaper is part of the Mid-America Publishing Family. Please visit www.midampublishing.com for more information.