Joan Hilma Amanda Meyer Plaht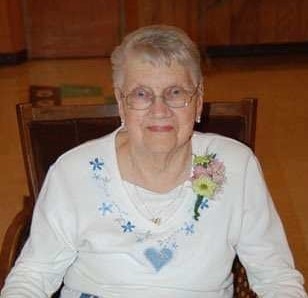 Joan Hilma Amanda Meyer Plaht was born March 23, 1932 to Frederick "Fritz" Meyer and Bertha Louise Caroline (Kuhse) Meyer on the family farm south of Postville in Grand Meadow Township, Clayton Co. Iowa.
She passed away at the Postville Good Samaritan Center on September 26, 2021 at the age of 89 yrs, 6 mos, and 3 days.
Joan was baptized May 8, 1932 by Pastor R.B. Garten at St. Paul's Lutheran Church, Postville and was confirmed on March 25, 1945 by Pastor Frederick R. Ludwig at St. Paul's.
She attended Springfield Country School and graduated from Postville High School in 1950.
On February 15, 1953 she was united in marriage to Harvey F. Plaht at St. Paul's by Pastor Ludwig. To this union five sons were born: Bradley, Michael, Randal, Scott and Larry.
Joan worked at several different jobs including the Iris Theater, Meyer's Hatchery dressing chickens, Falb's car dealership, Schroeder Grocery Store, cook at the Red Lantern, nurse's aide at the Postville Hospital and Good Sam, and cleaned at several homes as well as at Schutte's Funeral Home.
Joan enjoyed reading, gardening, and spending time with family and friends.
She is survived by her children Brad Plaht, Mike (Linda) Plaht, Randy (Cindy) Plaht, and Larry (Angie) Plaht all of Postville. Grandchildren Lacie (Shawn) Driscol, Brandon (Leah) Plaht, Katelyn (Mike) Peterson, Shannon (fiancé Sarah Wille) Plaht, and Trenton (special friend Vanessa Heinrichs) Plaht. Great Grandchildren Ethan, Logan, Dylan, Brooklynn, Oliver, Reid, Rhett, and Reese. Step-Grandchildren Michael Frieden and Joseph (Katelyn) Frieden. Brother Fritz Meyer of Monona, sisters Marlene (Willis) Livingood, Darlene (Harlan) White, sister-in-law Donna Plaht all of Postville, and several nieces and nephews.
She was preceded in death by her parents, husband Harvey on November 5, 1980, a son Scott on June 8, 2015, brothers Kenneth Meyer (in infancy), Richard "Dick" (Darlene) Meyer, Roland "Rolly" Meyer, Harold "Hoot" (Doris) Meyer, Gerald "Pete" (Sharon) Meyer, Donald "Doc" Meyer, niece Sally Meyer, brother-in-law Marlin Plaht and sister-in-law Arlene (Troy) Gilbert.
A visitation was held Wednesday, September 29, 2021 at St. Paul Lutheran Church in Postville and one hour prior to the service. Funeral Service was at 10:30 am on Thursday, September 30, 2021 at St. Paul Lutheran Church in Postville, Iowa with Rev. Lynn Noel as the officiant.
Burial followed at Postville Cemetery in Postville, Iowa.
Schutte-Grau Funeral Home and Cremation Service of Postville, Iowa is assisted the family with arrangements.
Click here to visit the Schutte-Grau Funeral Home and Cremation Service website.
Category:
Mid-America Publishing
This newspaper is part of the Mid-America Publishing Family. Please visit www.midampublishing.com for more information.