Jeanette Mae Schroeder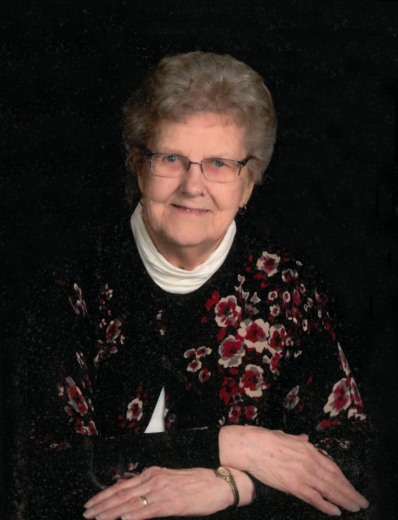 Jeanette Mae Schroeder, 91 of Castalia, Iowa passed away Wednesday, November 2, 2022 at Ossian Senior Hospice in Ossian, Iowa. Jeanette was born April 17, 1931 to Richard and Alma (Meyer) Ihde in Decorah, Iowa. She graduated from Postville High School in 1949.
On November 1, 1955 Jeanette was united in marriage with Kenneth Schroeder at Zion Lutheran Church in Castalia, Iowa. Four children were born to this union. Jeanette was a wonderful farm wife and mother. Faith was very important to her and she enjoyed making ice cream at the Church Ice Cream Social. Jeanette was very social and enjoyed attending Thirsty Thursday Club that met on Wednesday, eating out at the White Springs and Wagon Wheel, playing cards and watching the Chicago Cubs. Jeanette also enjoyed watching the races in Decorah on Saturday nights, sitting with the Ihde clan cheering on her nephews.
Surviving Jeanette are her four children Jackie (Ron) Lechtenberg of Postville, Iowa, Leo (Brenda) Schroeder of Castalia, Iowa, Colleen Meyer of Scottsdale, Arizona and Kendra (Craig) of Gilbert, Arizona; nine grandchildren, Jason and Cindy Lechtenberg, Kiley and Nick Stineman, Sarah and Jeff Brincks, Jessa Brincks, Emily and Derk Radloff, Olivia Frey, Ben Frey and Brock Frey; step-grandchildren, Carlee Meyer and Lindsey Hackman; great-grandchildren, Shraden Lechtenberg, Brecken Lechtenberg, Camden Lechtenberg, Peyton Stineman, Jacob Stineman, Jarett Brincks, Landen Radloff and Blair Radloff; sister, Orma Quam of Decorah, Iowa; brother, Marvin (Dorothy) Ihde of Decorah, Iowa; and sisters-in-law, Arla Ihde and Kay Ihde.
Jeanette was preceded in death by her parents, Richard and Alma Ihde; husband, Kenneth Schroeder on June 24, 2006; son-in-law, Al Meyer; brothers, LeRoy (Jeanette) Ihde, Donald Ihde and Norman "Bud" Ihde; and one grandson, Brent Schroeder.
A Visitation will be held Tuesday, November 8, 2022 4:00 pm to 7:00 pm at Zion Lutheran Church in Castalia, Iowa. There will also be a one hour visitation before services at the church on Wednesday.
Funeral Service will be at 11:00 am on Wednesday, November 9, 2022 at Zion Lutheran Church in Castalia, Iowa with Pastor Daryl Schultz as the officiant.
Burial will follow at Pleasant View Cemetery in Castalia, Iowa.
Schutte-Grau Funeral Home and Cremation Service of Postville, Iowa is assisting the family with arrangements.
Category:
Mid-America Publishing
This newspaper is part of the Mid-America Publishing Family. Please visit www.midampublishing.com for more information.