G. Wyatt Schultz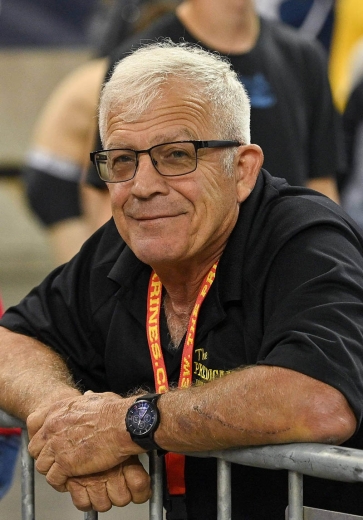 G. Wyatt Schultz, 68 of Cedar Rapids, Iowa died Saturday, August 21, 2021 at St. Luke's Hospital in Cedar Rapids, Iowa. Grant Wyatt was born June 6, 1953 to Grant Lee and Patricia Addie (Herwig) Schultz in Postville, Iowa. Wyatt was baptized and confirmed at St. Paul Lutheran Church in Postville. He graduated from Postville High School and attended NIACC in Mason City, Iowa.
Wyatt was united in marriage with Kirsten Dralle on October 26, 2002 at St. John Lutheran (Vilmar) in rural Greene, Iowa. For over thirty years, Wyatt worked as a driver/salesman for Con Way and XPO. Before relocating to Cedar Rapids, he also farmed in Castalia, Waukon and Frankville areas. Wyatt owns "The Predicament" wrestling website and news outlet, covering high school wrestling and amateur wrestling in the state of Iowa. Wyatt has been inducted into the 2020 Class of the Iowa Hall of Fame in Cresco Iowa, to be celebrated in 2022. He has been recognized for his contributions to Iowa high school wrestling with the IWOCA Dan McCool Media Award. He received the Russ Smith Community Impact Award from National Hall of Fame Dan Gable Museum, the IHSAA News Media Award, the National Wrestling Media Association Photographer of the Year award and also their Publication of the Year Award. He enjoyed watching sports, yardwork and visiting with family and friends.
Surviving Wyatt are his wife, Kirsten Schultz of Cedar Rapids, Iowa; his children, Heather Schultz of Ridgeway, Iowa, Grant (Nicole) Schultz of Fairfax, Iowa, Wendy Schultz of North Liberty, Iowa and Paul (Heather Hansen) Schultz of Fairbank, Iowa; his grandchildren, Jacob (Graciela) Blankenship, Izaak Schultz, Hailey Moore, Jacob Moore, Jackson Schultz, Oliver Henning, Noah Brockmeyer, Olivia Brockmeyer, Breckyn Schultz and Ayla Schultz; two great-grandchildren, William and Gabriel Blankenship; his mother, Pat (Harry) Cline of Elgin, Iowa; three brothers, Brad (Paulette) Schultz of Grimes, Iowa, Larry (Diane) Schultz of Postville, Iowa, and Daryl (Dolly) Schultz of Postville, Iowa, sister-in-law, Cindy ( Stuart) Schultz; and many nieces and nephews.
Wyatt was preceded in death by his father, Grant Schultz; and his brother, Stuart Schultz.
A Visitation will be held from 4-7 pm on Friday, August 27, 2021 at St. Paul Lutheran Church Fellowship Hall in Postville, Iowa. There will also be a one hour visitation before services at the church on Saturday.
Funeral Service will be at 10:30 am on Saturday, August 28, 2021 at St. Paul Lutheran Church in Postville, Iowa with Rev. Lynn Noel as the officiant and Daryl Schultz, Lay Minister, assisting.
Burial will follow at Postville Cemetery in Postville, Iowa.
Schutte-Grau Funeral Home and Cremation Service of Postville, Iowa is assisting the family with arrangements.
Click here to visit the Schutte-Grau Funeral Home and Cremation Service website.
Category:
Mid-America Publishing
This newspaper is part of the Mid-America Publishing Family. Please visit www.midampublishing.com for more information.