Big Four Fair celebrates 100th anniversary this weekend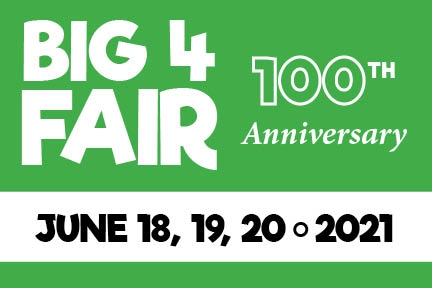 Festivities begin with Friday night's parade and live entertainment
The 100th anniversary of the Big Four Fair is being celebrated this weekend in Postville. Along with the fair, the Hometown Celebration and Allamakee County Dairy Days Parade will kick off the weekend festivities. The parade will process throughout downtown Postville, beginning at 7 p.m. The lineup for the parade begins at 6:30 p.m. at Lull's Park. This year's Hometown Celebration theme is "Celebrate 100 Years: Big Four Fair." Businesses and parade entrants are encouraged to decorate and dress in conjunction with the 100 year theme of the Big Four Fair.
The 2021 Grand Marshals are the members of the Postville Fire Department as the department celebrates its 125th anniversary. See an article honoring the department on this milestone elsewhere on this page.
The Little Miss and Mr. Postville Contest will be held at the Fairgrounds, along with carnival games after the parade.
Free bandstand entertainment will begin at 8:30 p.m. when the Smoking Guns Showdown will be performing on stage.
Friday's judging schedule includes, but is not limited to the open class projects, lego creations and the dog show.
The Kiddie Tractor Pull, a new event, will begin at 10 a.m. on Saturday and the Bean Bag tournament will begin at 11:30 a.m.
The dairy show will begin at 9:30 am., followed by the rabbit show, meat goat show, and hog show.
As the fair continues to celebrate its 100th anniversary, there will be another free show Saturday evening. 
Beau Timmerman will perform at 7:15 p.m. followed by Xpedition at 8:30 p.m. Xpedition is well-known tribute band to Journey, Kansas, and Styx who hail from Minneapolis.
The fair concludes on Sunday with the sheep and beef shows. There will be a waffle breakfast at the food stand from 7-9 a.m. 
For complete details of all fair activities, see the special section tucked inside today's paper.
Category:
Mid-America Publishing
This newspaper is part of the Mid-America Publishing Family. Please visit www.midampublishing.com for more information.