Area communities celebrate America's Birthday with fireworks, parades and more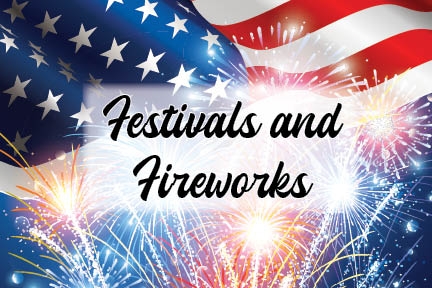 As the United States celebrates Independence Day this weekend, we are reminded of the freedoms our forefathers fought for nearly 250 years ago when they fought to give us the freedoms we have enjoyed for centuries. As we observe our nation's birthday, there are many celebrations being held in our area which are highlighted in the June 30 paper. With celebrations being canceled in 2020 due to the COVID-19 pandemic, area communities will be celebrating with renewed vigor this year. Don't miss the fun!
Among the activities in the area are fireworks in Clermont on Sunday, July 3 at Skip-A-Way Resort. There will also be fireworks in Monona on Sunday, July 4 with the best viewing from the grounds near the school.
Celebrations on July 2 are fireworks at Fort Atkinson and many events in Garnavillo on both July 2 and 3. Along with the fireworks they will have an ice cream social and a parade.
Guttenberg is holding a Stars and Stripes Independence Day Celebration complete with a carnival, parade and fireworks over the Mississippi River at dusk on July 3.
Marquette is celebrating the day in style beginning with a parade at 1 p.m. on July 3. The Arts and Crafts Festival will be ongoing in McGregor and the Emma Big Bear and Winnebago History Day will have something for everyone.
Harpers Ferry will also shoot off fire works from River Bluffs at dusk on the third.
Spillville is well-known for it's Fourth of July festivities and this year will not disappoint. The Independence Day Celebration will be held at Riverside Park/Inwood on July 3. A fun run begins at 8:30 a.m. and music begins at 4 p.m., followed by fireworks at 9:30 p.m.
Click here to view a complete listing of festivals and firework shows in the local area.
Category:
Mid-America Publishing
This newspaper is part of the Mid-America Publishing Family. Please visit www.midampublishing.com for more information.