Marvin Leroy Kruse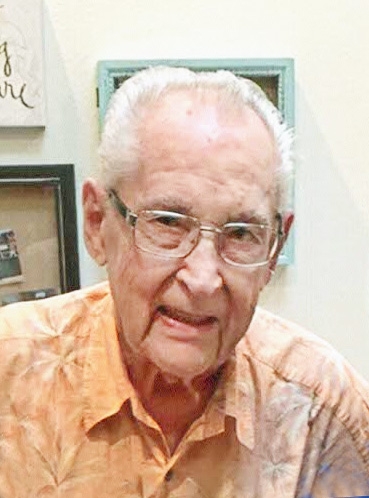 Marvin was born January 6, 1928 in Luana, Iowa to Leroy Kruse and Eda (Genz) Kruse. After 93 years, he passed away on April 5, 2021 in Venice, Florida. Marvin loved his family, his faith, and animals of any kind. He was a generous man who always helped those in need.
Marvin spent the first 70 years of his life in Luana, Iowa. In 1947, Marvin married the love of his life, Lula Maxine Harris. They were the proud parents of and survived by their three children, Michael Kruse (Kathy) of Siesta Key, Florida, Shelley Hawkins (Norm) of Ames, Iowa, and Amy Whetzel (Fred) of Port Charlotte, Florida.
Marvin held different jobs in the agriculture industry, including farming his parents' land, working for Watkins, US Feeds, the Luana Co-Op and owned his own feed and livestock company. He also volunteered in several different capacities for the city of Luana, including mayor and firefighter, and was an active member of St John's Lutheran Church. He enjoyed raising horses and hogs and attending horse and livestock shows.
Marvin is also survived by his brother Jim Kruse (Diane). He was proceeded in death by his parents and siblings, Eileen Mohs, Leo Kruse, Norman Kruse, and Gene Kruse.
He loved his three grandchildren, Andrea (Hawkins) Blythe, Emily Hawkins, and CJ Kruse (Christina) and his three great-grandsons, Anthony Blythe, Dylan Kruse, and Dante Kruse. He will forever be remembered as Grandpa Marvin and Grandpa Great.
Marvin & Lula relocated to Florida in 1998, where they lived in the Sarasota area until Lula's passing in 2012. Marvin enjoyed living in Florida and his part-time job helping people in the paint department at Sears.
Later in life he joined the Kingdom Hall of Jehovah Witnesses in Sarasota. In 2014, he found love again and married Sharon Booth. Marvin lived in the Sarasota area until his death.
He will be remembered as a hard-working man, loving father and caring husband. He never met a stranger and was kind to everyone he met until the end. Today we imagine him chatting with Lula, his parents, and his siblings in heaven, playing a hand of cards.
Memorials may be directed to Shelley Hawkins, 5115 Todd Drive, Ames, IA 50014.
Category:
Mid-America Publishing
This newspaper is part of the Mid-America Publishing Family. Please visit www.midampublishing.com for more information.