Marian Alberta Casten Schutte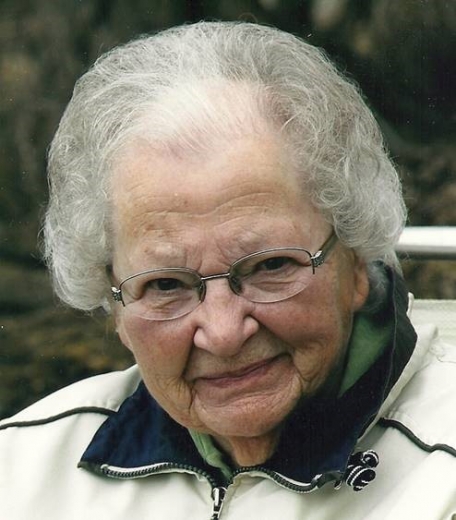 Marian Alberta Casten Schutte, daughter of Leonard and Anna (Schara) Casten, was born on May 15, 1925, in Postville, Iowa. She passed away on July 6, 2020, at the home of her daughter and son-in-law in Waverly, IA, surrounded by her children, having reached the age of 95 years, 1 month and 21 days.
Marian was baptized on July 26, 1925, and confirmed on November 13, 1938, at St. Paul Evangelical Lutheran Church in Postville, IA, where she was a life-long member. She graduated from Postville High School in 1942. After completing her degree in music education and piano performance in 1946 from Cornell College in Mt. Vernon, IA, "Miss Casten" taught one year in Sigourney, IA, before marrying Paul A. Schutte on June 25, 1947, at St. Paul Evangelical Lutheran Church in Postville, IA. As Mrs. Schutte, she taught music and band at the Luana School in the fall of 1948.
In her youth, Marian studied piano with Clara Gordon and Nora Jorgenson. At age sixteen, she was asked to play for the celebration of the new stone exterior and remodel of the interior at St. Paul Evangelical Lutheran Church for which a piano was wheeled into the closed intersection in front of the church where the service was held. Though piano was her first instrument, with the guidance of Mrs. Johanna Ludwig, Marian expanded her keyboard skills on the organ, and later studied with William Kuhlman at Luther College. She served as an organist at St. Paul for over six decades, playing for hundreds of church services, weddings and funerals, touching nearly every family in the Postville area with her gift. Marian was an active member of the American Guild of Organists. In 1981, she was featured in the Clermont Union Sunday School Organ Recital Series.
Marian played the organ and accompanied the choir at St. Peter Lutheran Church in Mesa. She enjoyed winter trips to Arizona to take advantage of the warm weather and visit with the many southern friends in the Phoenix basin. The regularly-held Tuesday morning Iowa breakfast in Mesa was certainly a highlight.
Marian delighted in the unique talents and interests of each of her family members while passing on her love and appreciation of music and dedication to God and church. She is survived by her six children: Stephen (wife Gina Laaveg), Clear Lake, IA; Peter (Sheri), Irvine, CA; Kim, Postville, IA, and close friend Bunny Stark; Carol (Jeffrey) White, Central City, IA; Susan (Stephen) Brackett, Waverly, IA; Christopher (Carey), Garland, TX; and former daughter-in-law Carol Sue (Webber) Schutte, Clear Lake, IA; thirteen grandchildren: Bradley Schutte (Jennifer), Gardner, KS; Daniel Schutte (Kristen), Two Harbors, MN; Kurt Schutte (fiancée Michelle Pieper), Aliso Viejo, CA; Samantha Schutte, Montclair, VA; Zachary, Anna and Andrew White, Cedar Rapids, IA; Sarah White, Steinfurt, Germany; Patrick Brackett, Boise, ID; William Brackett, Sioux Falls, SD; Molly Brackett (fiancé Tate Stottmann), Coeur d'Alene, ID; Alyson (Michael) Bazan, Garland, TX; and Ashley Schutte, Garland, TX; and five great-grandchildren: Aidan and Ella Schutte, Leilah White, Jula and Hudson Schutte. Marian is also survived by step-grandchildren Philip (Nadia) Laaveg, Los Angeles, CA, and Dan Laaveg, Iowa City, IA. She was preceded in death by her parents in 1993 and her husband in 1995.
Marian's sincere interest in the people around her, as witnessed by those who cared for her at the Good Samaritan Center in Postville, at the Mayo Clinic in Rochester, at the Winneshiek County Memorial Hospital in Decorah, and through the Cedar Valley Hospice in Waverly, endeared her to all her caregivers. She was happiest making them know that they, too, mattered, expressing her gratitude for their kind efforts and inquiring about them and their families. Paramount to her life was her commitment to nurturing a strong tie among all of her children and their spouses, her grandchildren and their spouses, and her great-grandchildren.
Now united with her loved ones and all the heavenly host, we once again join hands to: Praise God from whom all blessings flow. Praise Him all creatures here below. Praise Him above, ye heavenly host. Praise Father, Son and Holy Ghost. Amen.
Visitation will be held from 4-7 pm on Friday, July 10, 2020, at Leonard-Grau Funeral Home and Cremation Service in Monona, Iowa.
Graveside Service will be at 10:00 am on Saturday, July 11, 2020, at Postville Cemetery in Postville, Iowa, with Rev. Lynn Noel as the officiant and Rev. Stephen Brackett, sermon. We encourage you to bring your own lawn chair.
Due to the COVID-19 pandemic, state and federal guidance on gatherings will be followed. We recommend that everyone wears a facemask and follows social distancing guidelines.
Schutte-Grau Funeral Home and Cremation service of Postville, Iowa, is helping the family with arrangements.
Visit Schutt-Grau Funeral Home and Cremation by clicking here.
Category:
Mid-America Publishing
This newspaper is part of the Mid-America Publishing Family. Please visit www.midampublishing.com for more information.