Linda Lou Moeller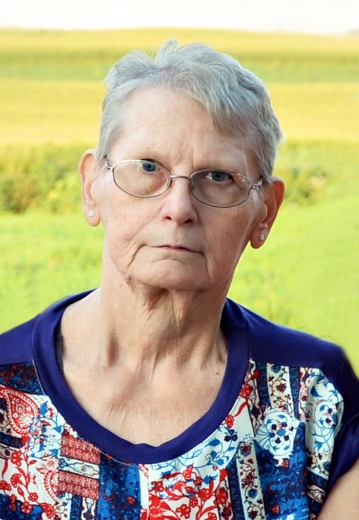 Linda Lou Moeller, Luana, Iowa died Saturday, November 14, 2020 at Elkader Care Center, Elkader, Iowa. She was born June 30, 1952 to Eldo and Mildred (Fette) Meyer in Oelwein, Iowa. She graduated high school with the MFL class of 1970.
Linda was united in marriage with Roger Moeller on August 7, 1971 at St. John Lutheran Church in Farmersburg, Iowa. Three children were born to this union. Throughout the years Linda worked at home helping on the farm. She later went on to work at Monona Wire and was a cook at various local establishments.
Linda loved spending time with her family. She really enjoyed cooking and teaching her grandchildren how to cook. She always cooked for an army. She loved to write out recipes from cookbooks and give them out to friends and family. She had a passion for cooking. Her banana bread and cream coffee cake was a family favorite. When she wasn't baking, Linda would enjoy circle of word books and reading cookbooks. Always willing to give a new recipe a try.
Surviving Linda are her three children, Chad (Melissa) Moeller of Monona, Iowa, Cathy (Brian) White of Elkader, Iowa and Chris (Kallie) Moeller of Postville, Iowa; ten grandchildren, Amber, Jade, Samantha, Nichole, Allison, Michael, Chloe, Kody, Cameron and Keely; brother, Merlin (Sandy) Meyer of West Salem. Wisconsin; and her sister, Norma Korte of Arlington, Iowa.
Linda was preceded in death by her parents, Eldo and Mildred Meyer; her husband, Roger Moeller; a sister, Esther (Valdean) Engelhardt; and brother-in-law, Fred Korte.
For cards and memorials, please send to: Chad Moeller, PO Box 49, Monona, IA 52159, Cathy White, 15770 Hwy 56, Elkader, IA 52043 or Chris Moeller, 16589 Cedar Ave, Postville, IA 52162.
There will be a private graveside service at Eno Cemetery, Luana, Iowa with Rev. Marshall Hahn as the Officiant.
Leonard-Grau Funeral Home and Cremation Service, Monona, Iowa is helping the family with the arrangements.
To visit the Leonard-Grau Funeral Home and Cremation Service click here.
Category:
Mid-America Publishing
This newspaper is part of the Mid-America Publishing Family. Please visit www.midampublishing.com for more information.