Dwayne Dale Moon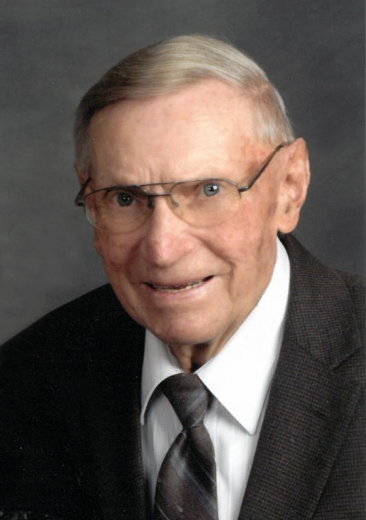 Dwayne Dale Moon, 91, of Luana, Iowa died Friday, January 28, 2022 at Good Samaritan Society in Postville, Iowa. Dwayne was born February 4, 1930 to Ernest and Bertha (Lienau) Moon in Monona, Iowa. He attended Evergreen Grove Country School.
On August 20, 1950, Dwayne was united in marriage with Inez Doerring at St. Paul Lutheran Church in Postville, Iowa. Together they raised four children and operated the family farm south of Luana, Iowa.
Dwayne loved his many fishing trips to Canada and hunting trips to Wyoming.  He had a passion for ice fishing and he never missed an opening day of pheasant season.  He enjoyed hosting the Sumner Crew for deer hunting each year and retelling the hunting stories at night while sipping on Black Velvet and Squirt.  Dwayne and Inez loved polka dancing, snowmobiling with the neighborhood, and traveling in the Winnebago, including trips to Tennessee and a trip across Canada to sightsee in Alaska.  They have hosted Christmas every year in their home and have enjoyed watching the family grow from grandchildren to great-grandchildren.  He always enjoyed any drop-ins from his grandchildren and great-grandchildren and gave hugs when they left. 
 Most of all, Dwayne loved the farm.  He started his dairy operation through the purchase of five cows from his father and built that to two of Iowa's highest producing dairy herds in the state of Iowa by 1980.  He was given the honor of receiving one of the 1980 Iowa Distinguished Dairymen Awards.  He took great pride and joy in farming the land starting with Moon Valley Holsteins and continued to watch his sons, and son-in-law carry on the trade.  Dwayne never "retired" from the farm. He was always there, driving the gravel roads in his truck, wearing his bib overalls, checking the crops daily and giving his everyday input.
 Dwayne is survived by his wife of seventy-one years, Inez Moon (Doerring); his children, Barbara Wall of Manchester, Tennessee, Dennis (Debra) Moon of Luana, Iowa, Cindy (Luther) Schutte of Luana, Iowa and Rick (Vickie) Moon of Luana, Iowa; twelve grandchildren, Tara (Michael) Lusby, Kerri (Carl) Ferrell, Steffany (Neil) Sass, Cody (Bridget) Moon, Quentin (Jennifer) Schutte, Tadd (Kathleen) Schutte, Kellie (Laura) Schutte, Keisha (Austin) Coon, Casey Fisk, Mychal Moon, Nicole (Garett) Palas, Melissa (Kendal) Moon; thirty-four great-grandchildren; brother and sister-in-law, Vernice (Bev) Moon on Monona, Iowa; his sister-in-law, Darlene Moon of Monona, Iowa; and many nieces and nephews.
Dwayne was preceded in death by his parents, Ernest and Bertha Moon; brother, Don Moon; sisters and brothers- in-law, Ethel and Harlin Miller, Viola and Edwin Brown and Shirley and Hap Kutzbach.
Visitation will be held from 9:30 am to 11:00 am on Monday, February 7, 2022 at St. Paul Lutheran Church in Postville, Iowa.
Funeral Service will be at 11:00 am on Monday, February 7, 2022 at St. Paul Lutheran Church in Postville, Iowa with Rev. Lynn Noel as the officiant.
Burial will follow at the Postville Cemetery in Postville, Iowa.
Memorials may be made to St. Paul Lutheran Church in Postville, Iowa, MFL Ambulance and Luana Fire Department.
Cards of sympathy can be sent to: Inez Moon, 800 Darby Drive, Monona, Iowa 52159.
Leonard-Grau Funeral Home and Cremation Service of Monona, Iowa is assisting the family with arrangements.
Click here to visit the Leonard-Grau Funeral Home website.
Category:
Mid-America Publishing
This newspaper is part of the Mid-America Publishing Family. Please visit www.midampublishing.com for more information.