Despite rising COVID numbers, school district completes first quarter of in-person learning successfully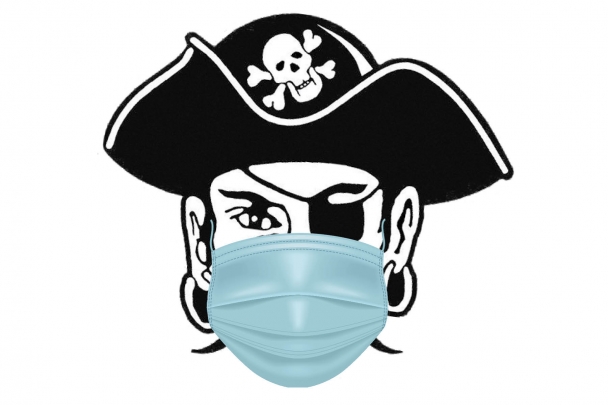 With COVID-19 having ravished the United States for most of 2020, it has become a household name, and the top news story on every major channel since March. In Iowa the first cases were reported during the second week in March, and schools throughout the state, by order of Governor Kim Reynolds, were shut down March 17 for the remainder of the 2019-20 school year.
As of November 2, Allamakee County has reported 431 positive cases  and nine deaths while the neighboring counties report slightly higher numbers. Clayton County reports 568 positive cases with three deaths; Winneshiek reports 544 positive cases with nine deaths and Fayette County reports 453 cases with four deaths. It should be noted that the recovery rate holds steady at over 90%.
Although the numbers have continued to grow, schools in Northeast Iowa opened in August with new Return to Learn plans in place. The plan, which has been successful in Postville, is vigilant about many things including sanitation, social distancing, mask wearing and temperature taking.
With the first quarter of the school year having been completed last week, Superintendent of Schools Tim Dugger reflected on the district protocol and its effectiveness.
He said, "Our students and staff have done a good job of following the rules. The district schedule will stay as is until at least winter break. We have sent out a parent survey as we gather input from families and staff as to how the school year will proceed in the new year."
When asked about COVID-19 cases within the district, he said, "Because of privacy laws, we cannot report any specific case numbers. But, I can say we have had less than seven cases for staff and students. Each time there is a positive case, we conduct contract tracing and affected students and/or staff members are sent home for quarantine."
He went on, "Thus far the school year has been fairly normal. The biggest change is having to wear masks in the halls and when we cannot socially distance. The kids are very compliant with this rule."
"My biggest concern," He added, "Is with our staff. The staff has been healthy and has had good attendance. If we get to a point where we don't have enough teachers and/or support staff we may need to look at a more strict hybrid model."
Student absenteeism, the Superintendent added, has been below 5% most days. When that rate gets to 10% and beyond, a new model would be considered.
When addressing the "new normal" he said, "Lunch and recess times are spread out more, but seem to be working well. The fourth-sixth graders  eat in the their classrooms, while everyone else eats in the cafeteria. On Remote Wednesdays, when the kids are not here for in-person learning, the teachers and students are working to find the best ways to teach and learn remotely. We are very productive on Thursdays and Fridays. The students come back from the day at home rested  and ready to learn."
Extracurricular activities remain a challenge as sometimes distancing becomes difficult.
The first of the high school plays was held in October. The seating in the fine arts center was limited to half capacity and the drama department also offered viewing through live streaming.
Practices are beginning for the winter sports' seasons and the schedules are set to begin later this month. Mr. Dugger added, "We will follow the COVID rules as set out by the Department of Education."
He noted, "The winter concerts, however, may not happen as we are still working on how they may occur in a safe manner for all involved."
"Our school district," he said, "Works one week at a time. This year has been different but we are pleased that our students have been able to stay in school and we hope for this to continue."
Category:
Mid-America Publishing
This newspaper is part of the Mid-America Publishing Family. Please visit www.midampublishing.com for more information.