Delois Louise Flage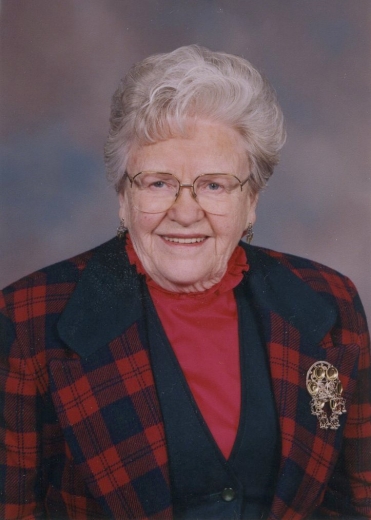 Delois Louise Flage, 96, was born June 29, 1924, the daughter of Walter and Esther (Hansmeier) Fiet in rural Postville. She died peacefully March 23, 2021, at Barthell Eastern Star Home in Decorah with family at her side.
  Lois was baptized and confirmed at Bethlehem Presbyterian Church, rural Postville. She graduated from Waukon High School in 1942 and attended junior college.  Lois taught at rural Ludlow #5 school until her marriage to Irvin E. Flage, August 9, 1948 at Bethlehem Presbyterian Church. They were married 65 years. To this union two children were born.
  Irvin and Lois farmed in Ludlow township for 40 years. They raised purebred Jersey cows. Upon retirement they moved to Postville and later Decorah. Lois continued to work as an associate librarian, substitute teacher and sold real estate.
  Lois enjoyed traveling, sewing, knitting and quilting. She was a lifetime member of Vesterheim museum and an avid rosemaler, member of the Nisse Rosemalers. Her grandchildren and great-grandchildren were the light of her life.
  Delois is survived by her two children: Daniel (Dana) Flage of Harrisonburg, VA, Deborah (Joel) Timmerman of Decorah; four grandchildren: Tristan and Angela Flage of Harrisonburg, VA, Anna (Braham Ketcham) Timmerman of Chicago, IL, Kerri (Aidan) Timmerman-Edwards of Suwanee, GA; four great grandchildren: Cora and Elliot Ketcham of Chicago, IL and Adelynn and Arlo Edwards, Suwanee, GA; sister-in-law Jean Flage of Postville; Michael Kallfelz of Germany.
  Delois is preceded in death by her husband, Irvin Flage on January 25, 2013; parents Walter and Esther Fiet; father- and mother-in-law Ben and Meta Flage; sister-in-law Esther Kiesau; and brother-in-laws Albert, Ralph and Leo Flage.
  Services will be held in April with burial at Bethlehem Presbyterian Cemetery.
  Fjelstul Funeral Home in Decorah is serving the family.
Online condolences may be made at www.fjelstul.com.
Category:
Mid-America Publishing
This newspaper is part of the Mid-America Publishing Family. Please visit www.midampublishing.com for more information.