Clarian Thelma (Thompson) Gunderson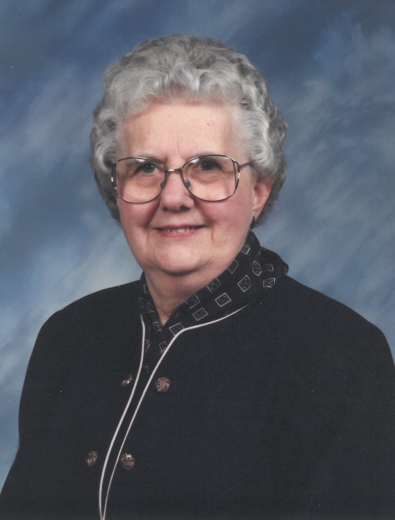 POSTVILLE – Clarian Thelma (Thompson) Gunderson, 91, of Postville, Iowa, passed away on Saturday, May 8, 2021 at Stoney Brook Village in West Union. Clarian was born March 13, 1930 in rural Clermont to Henry T. and Anna Marie (Lubke) Thompson. She was baptized at West Clermont Lutheran Church on July 20, 1930 which marked the beginning of her strong relationship with God. This continued with her confirmation at the Frankville Presbyterian church in 1945.
Clarian attended rural schools in Allamakee and Winneshiek counties and graduated from Postville High School in 1947. After graduating, she worked as a secretary at the Postville Community School and was later employed at the Postville State Bank. She was united in marriage to the love of her life, Dean Gunderson on August 12, 1951 at Saint Paul Lutheran Church in Postville, Iowa. Together they raised five children.
Clarian filled her time raising her children and growing her faith through her active membership at St. Paul Lutheran Church and WELCA groups. She enjoyed baking, cooking, sewing and quilting, and would often be found working on a crossword puzzle. She also shared her love of gardening with her husband and the pair were quite the card sharks, they definitely enjoyed their various card clubs. Most of all Clarian was known for her very kind heart, her quick wit and strongest of hugs. She is survived by her children; Marsha (Reid) Koenig, Randy Gunderson, Alan (Kathy) Gunderson, Carol (Jeff) Reierson, and Deanna (Dave) Hahn, grandchildren; Anne Koenig (Catherine Glass), Laura Koenig, Jennifer (Dave) Braham, Kristen Reierson, Sara (Justin) Poindexter, and Leah Reierson, great grandchildren; Micah and Oliver Braham, and sister-in-law, Kay Gunderson, along with many cherished nieces and nephews.
She was preceded in death and will be reunited with her loving husband, Dean, her parents; Anna and Henry, her siblings; Frances Thompson, Lavanda (Harold) Richert, Harley (Ellen) Thompson, in-laws; Jan and Ralph Gunderson, Arnold Gunderson, Doris and Lloyd Niedert, Ruby and Quentin Torkelson, Fern and Bernard Templeton, and Betty and Duane Holm.
The family would like to share the most heartfelt thanks to the healthcare workers at Stoney Brook Village who gave such wonderful loving care of Clarian who also became family to her in her last years.
Funeral Services were held Friday, May 14, 2021 at St Paul Lutheran Church, Postville, Iowa with Rev. Lynn Noel as the Officiant.
Inurnment followed at Postville Cemetery, Postville, Iowa.
In lieu of flowers, memorials are requested to St. Paul Lutheran Church, Postville or Gundersen-Palmer Hospice, West Union. Schutte-Grau Funeral Home and Cremation Service is assisting the family with arrangements.
Category:
Mid-America Publishing
This newspaper is part of the Mid-America Publishing Family. Please visit www.midampublishing.com for more information.